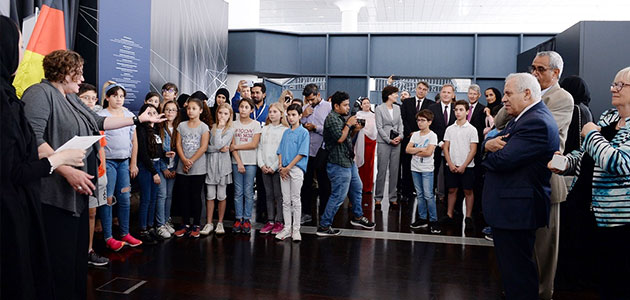 Qatar National Library (QNL) opened 'Arab and German Tales—Transcending Cultures', an exhibition tracing the history of Arabic and German fairy and folk tales, and how the two traditions influenced each other. The exhibition also documents the extensive, unexplored world of local Qatari tales. Her Highness Sheikha Hind bint Hamad bin Khalifa Al Thani attended the opening and toured the exhibition.
The exhibition presents masterpieces from antiquity to the present day, including the stories of One Thousand and One Nights, the fairy tales of the Brothers Grimm, and ancient Egyptian tales dating from 1900 BCE. Over the centuries, the narrative traditions of the Arab world and Germany influenced each other, creating a shared cultural heritage through storytelling. The exhibition is a joint enterprise between QNL, the German Embassy Doha, Ägyptisches Museum und Papyrussammlung Staatliche Museen zu Berlin (Egyptian Museum and Papyrus Collection - National Museums Berlin) and the Arab-German Young Academy of Sciences and Humanities (AGYA).
Hans-Udo Muzel, German Ambassador to Qatar, said: "We are honored and privileged to present the exhibition "Arab and German Tales – Transcending Cultures" in the magnificent new building of Qatar National Library, which has only yesterday been officially inaugurated by H.H. the Emir Sheikh Tamim bin Hamad Al Thani. It is a sign of our affinity with the State of Qatar that Germany has been given the opportunity to put on this important exhibition to coincide with the grand opening. I hope all visitors will enjoy learning more about narrative traditions from the Arab world and Germany, and trust that we will bring fresh stimulus to our cooperation and contribute to greater understanding in science and research. By supporting the Qatar National Library in its mission of simultaneously being a treasury of history and culture and a medium of knowledge and learning, it is the German government´s intention to contribute to the enhancement of the close relations between Germany and the Arab world."
 Dr. Ulrich Marzolph, professor of Islamic studies at the University of Goettingen, delivered the keynote speech, noting the interplay between cultures that is manifested in stories. "Tales travel, and as they travel, they change. In traveling from one region, one language or one religion, they are transformed by each culture, which embed their own traditions and teachings," he said.  
Dr. Frithjof Maennel, Understate Secretary and Director of International Affairs of the German Federal Ministry of Education and Research, spoke on behalf of the German government, saying: "Exhibitions such as this are important co-operations for cultural exchange. My generation grew up with the fairy tales of the Brothers Grimm, and they are still well-known by German children today, as are the tales of the Arabian Nights."
Also in attendance was His Excellency Dr. Hamad Al-Kuwari, an advisor at the Emiri Diwan and a member of the QNL Board of Trustees. 
Dr. Verena Lepper, curator of the exhibition, noted the exhibition's place in QNL and, in turn, in Qatar. "As the curator, I feel honored to display this exhibition in this wonderful new library," she said. "This library, located in the heart of Education City, itself devoted to education and research, is the ideal place to display an exhibition of Arab and German tales that transcend cultures."